Okay, okay.  I know "Hello World!" is a bit cliche, but oh so appropriate for my first post.
A little background –
Some of you know me from www.wordsofhisheart.wordpress.com.  That's where I blog about my amazing life raising and homeschooling 7 kiddos, including a courageous 7-year-old (as of 2014) with Down syndrome and apraxia.  We live on 6 acres in the beautiful Texas Hill Country.
As of January, my youngest is potty trained and 4 years old.  And I'm not getting any younger.
So starts a new season of my life.  I've always found comfort and energy in creating beautiful things.  A few years ago I bought a primitive Baby Loc Esante 4 x 4 embroidery machine, which I love to pieces, although we've been through a battle or two over broken thread and torn-too-early tear-away stabilizer.  Recently I came across a set of adorable felt dress-up doll embroidery designs from http://www.sharimariecreations.com/page61.html.  I knew I just had to make a set for Noah, but it called for a machine that could stitch an image at least 5 x 7″.  What to do?
Well, my very generous mother offered to let me use her Brother Pacesetter 5 x7″ machine, and, as they say, that's all she wrote.  I was hooked.  I had to have a bigger machine.
So I went to my local embroidery machine dealer and decided on a medium-priced model, a Viking Topaz 50.  Woo hoo!  But then things got more interesting, and I'm currently set on a Viking Diamond Royale.  Woo hoo!  Woo hoo!
And I'll be buying the 6D Premier digitizing software as well.
Am I jumping the gun by starting my blog the week before my big purchase?
Not a chance.  I want to hit the floor running.  See, I figure you are my accountability.  I've told you I'm going to learn to digitize and make a business out of it.  Now, no matter how tedious it gets, I have to keep my word.
I've already got clipart picked out for digitizing, and I've already oohed and ahed over all the stitches from Viking's printable stitch guides.  I am going to be making some amazing machine embroidery designs!!!!  And I want to be able to update this blog every step of the way.  So it's time to get things up and running now, don't ya think?
My Etsy store is already up and running too.  Like I said, I love beautiful things, so until I've got machine embroidery designs for sale, I'm content selling the things I can make on my or my mom's machine, like tea towels and felt dolls, and also vintage style crochet – my other passion (or my other husband as my husband likes to say).  :0
Click the follow button to stay updated or keep checking back, I'll be adding more of my creative musings often.  You'll also find tips here on creating the things you and I both love to create, and best of all, you'll find freebies and links to freebies as I either come across them or make them myself.
For now, please stop by my Etsy store at www.21reasons.etsy.com – it's so encouraging to see people show up on my store stats every now and then, and maybe you'll see something you just have to have like: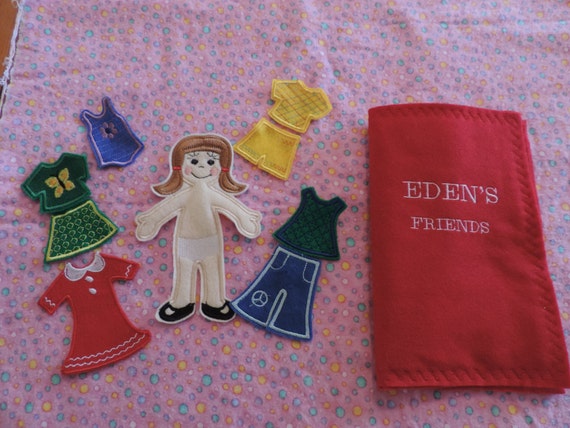 (The felt dolls and carrying case that got it all started.)  https://www.etsy.com/listing/180107744/4-12-x-7-machine-embroidered-paper-doll?ref=shop_home_active_7
or this: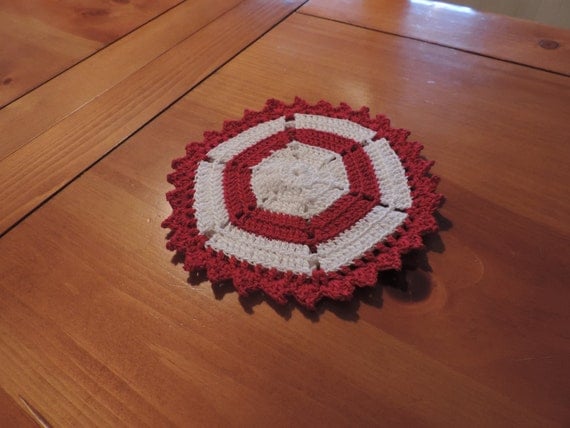 Vintage style hexagon crocheted potholder in your choice of colors.  https://www.etsy.com/listing/179129516/new-vintage-style-red-and-white?ref=shop_home_active_8
or this: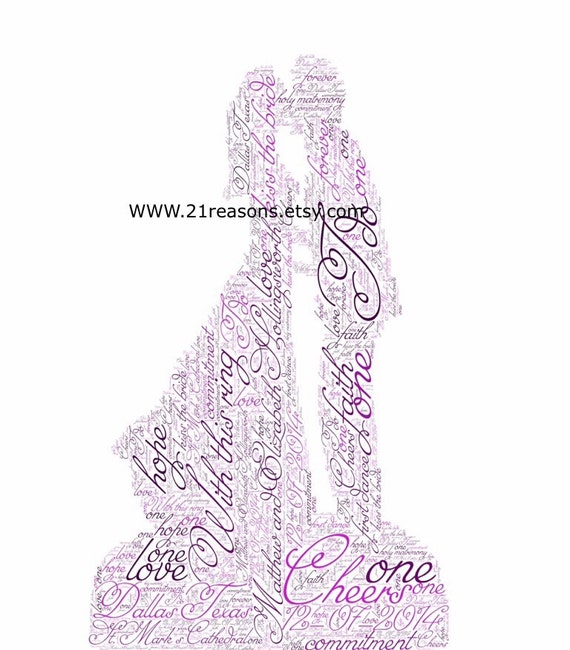 Bride and Groom's First Kiss Printable Word Art – great inexpensive wedding gift or art for invitation. https://www.etsy.com/listing/181488496/word-art-custom-art-for-framing-or-card?ref=listing-shop-header-0
or this: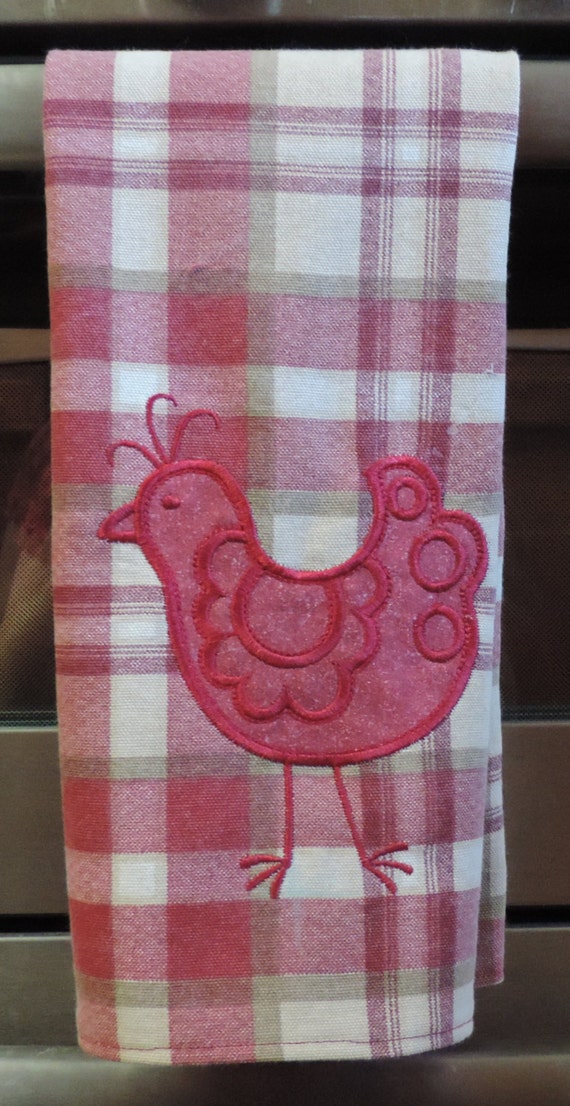 This red, tan and cream plaid kitchen towel has the cutest little red hen ever appliqued onto it.  https://www.etsy.com/listing/177340512/country-chic-little-red-hen-kitchen?ref=shop_home_active_9
Blessings,
Alyson